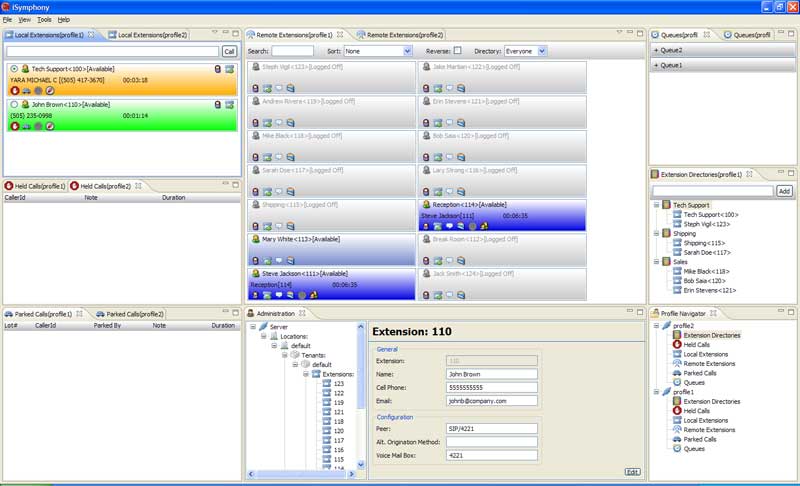 iSymphony, an easy-to-use, Java-based client/server software application for managing phone calls via the Open Source Asterisk platform. Since iSymphony works with Asterisk it is agnostic to Asterisk distributions and other commercial products based on its acrhitecture. Some compatible products are PBX in a Flash (PIAF), Elastix, trixbox CE and FreePBX Distro which are configured via FreePBX.
Features
Visual Voicemail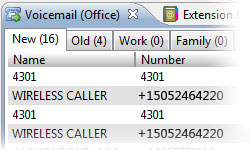 See your voicemails! Double click to listen to your voicemail. You can even organize your voicemail by moving them to other folders or even deleting them. Want to let someone listen to a voicemail of yours? Simply drag it to their extension.
Queue and Agent Statistics
Now you can display statistics on queues and agents. Get more detailed information by double clicking on the agents to display detailed statistics to keep you up-to-date on what's happening in your call center environment.
Configurable Layout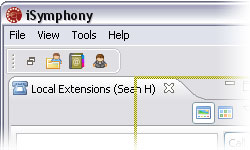 Work the way you want. Customize the layout of iSymphony by moving the tabs to create your most efficient layout. Tabs can be docked together or even detached from the entire layout. Resizing is done by grabbing an edge of the tab and dragging to the size you want. Tabs can further be customized by minimizing them into a Fast View.
Multiple Views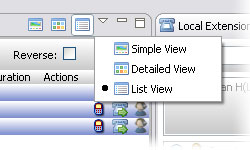 iSymphony offers a lot of customization. On top of it all you can choose multiple ways to display the extensions your managing and all of the remote extensions. The Simple View is the classic view you're used to seeing. Detailed view shows the extension along with multiple calls. The list view shows a grid-like format and will also show you if the extension controls multiple channels at that time. It's your choice!
Multiple Location, Tenant and Profile Support
Multiple offices with separate Asterisk installations? iSymphony 2.0 fully supports multiple locations (individual Asterisk servers), multi-tenant configurations and can monitor multiple extensions for each client installed. All of these setting are managed via a single interface. Dynamically manage connections to each server and edit each of the tenants for multi-tenant installations. Each profile and theirpermissions are managed on a per location basis for granular control.
Profile Navigator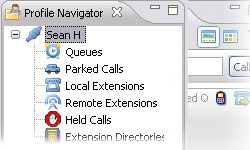 Manage all the tabs of your iSymphony installation within one tab. No matter how many profiles you're using you see all of them through the Profile Navigator. Profile Navigator features an Explorer like feel. Queues, Held Calls, Parked Calls, Local Extensions, Remote Extensions and Extension Directories all from one location.
Fast Views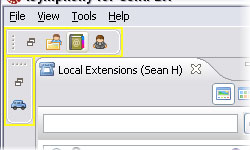 Need quick access to a module but don't use it that often? Fast Views provide a quick way to dock the modules for easy access. You can dock them in one Fast View or multiple, the choice is yours. You can even move them to the side of the application you choose.
Permissions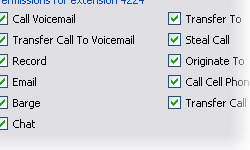 Granular permissions is iSymphony's strong point. The administrator can finely manage each profile and what actions that profile can perform. One example of the permission structure is to disable barging and recording on the CEO's phone, but his executive assistant needs to perform these actions. The administrator can grant the assistant permissions to barge and record the CEO's phone calls while no one else in the organization is able to.
Conference Rooms
With iSymphony you can monitor static conferences or even create you own dynamic conference room. Drag and drop extensions into your newly created room. Need to collaborate with someone on a current call? Create a conference room drop your call in the room area and invite another user to join the conference.
Queues/Agents
Dynamically log agents in or out. Each user can see if the agent is logged in and taking queue calls. See each of the queues that are being managed by iSymphony and how many calls are in each of them. Agents can dynamically take/place calls in or out of each queue being managed.
Extension Directories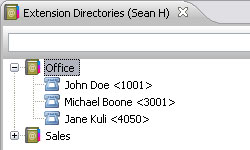 Creating phone books is easy. Simply open the Extension Directories module via the Profile Navigator and you'll see the available directories. If permissible the users can drag and drop the available extensions into the directory of their choosing and then choose to only display them in the Remote Extensions.
Administration Interface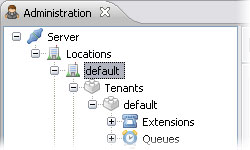 There is no longer a need to edit files on the command line. All features in iSymphony are now managed in a single interface. No matter how many servers you're connecting to with iSymphony you can easily make modifications in a secure manner.
Chat
Enterprise level chat is possible through Jabber integration. With the Jabber server of your choice installed iSymphony connects and manages those connections in an iSymphony module. You can even have multiple conversations happening at the same time!
Customized Presences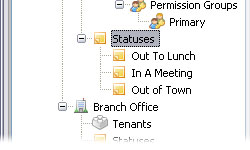 iSymphony supports custom presences to be displayed. Out of office, out to lunch or even in a meeting. Create your own to fit your business needs. Users can even select a time they will be returning. This time is displayed to people by hovering over their extension. Not enough? Set a note before setting your status.